Our
Philosophy
The Oste Scuro was founded in 1998, inspired by the Parisian fish brasseries, and over time, through continuous interaction with customers, suppliers, and colleagues, it became Verona's first restaurant that exclusively serves wild fish from our seas, also pairing it with prestigious products such as oysters, caviar, lobsters, and blue crabs. The Oste Scuro's kitchen puts the undisputed quality of ingredients at the forefront, which we respect and enhance in our preparations. The friendly and smiling service staff is dedicated to making our customers have a relaxing and enjoyable experience.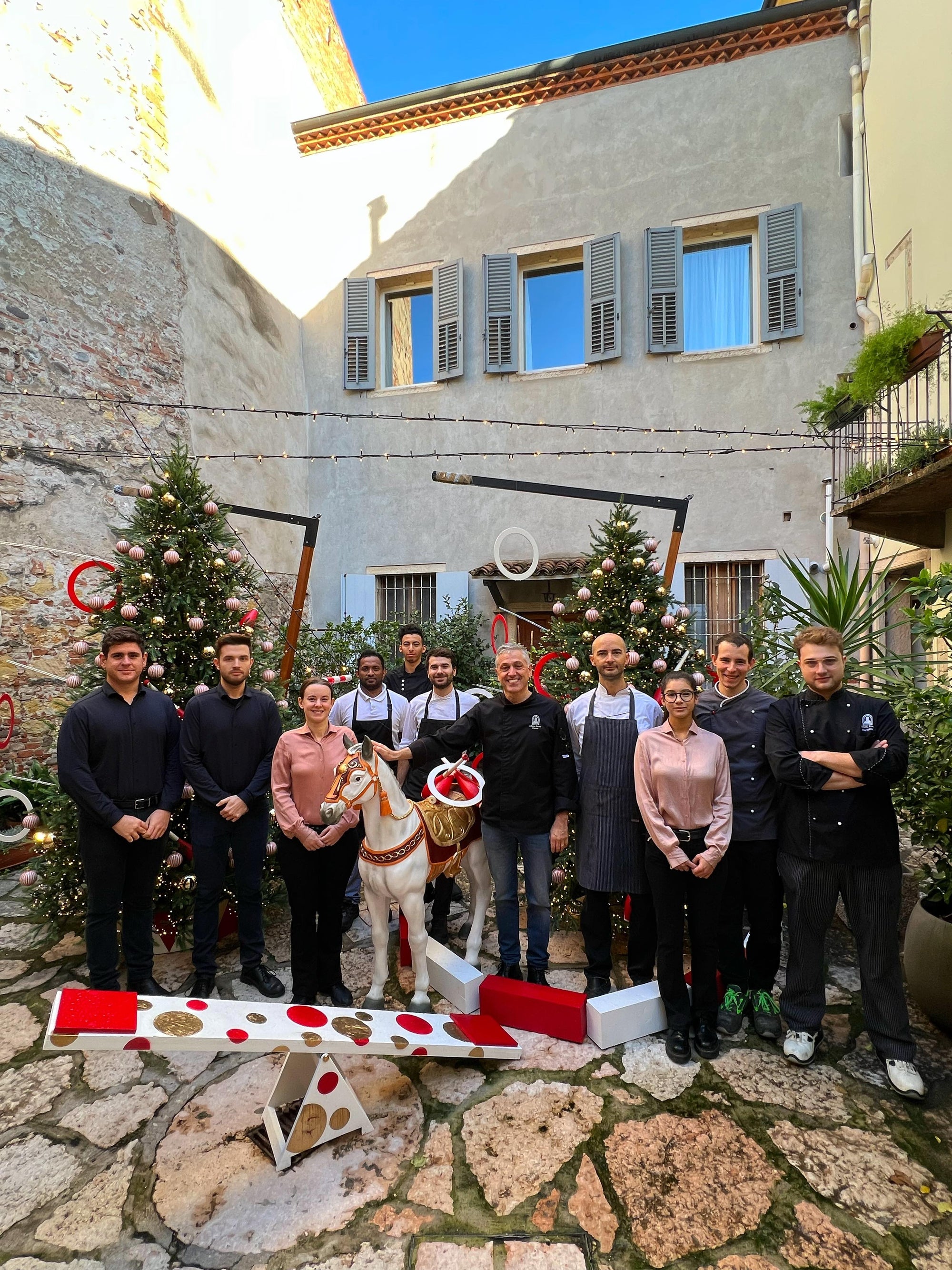 The chef and the team
Simone Lugoboni was born in 1971 in Verona. Curious about the world, after a great experience in the early 90s in France, he met his mentor Angelo Paracucchi with whom he collaborated both at his Locanda dell'Angelo di Ameglia and at the Enoteca Capranica in Rome. After 9 years, he returned to Verona to open L'Oste Scuro in 1998 with other partners, followed by the opening of the trattoria Al Pompiere in 2000 and the pizzeria Du de Cope in 2005. Now the sole owner of L'Oste Scuro, he continues his constant pursuit of work quality and also runs a business consulting for other establishments. All this is possible thanks to an excellent team of collaborators, including the executive chef Simone Albertini and sous-chef Fabio Vicentini in the kitchen. The service staff is young and gracious with the goal of making the customer feel at ease and have a pleasant and memorable evening. The wine cellar is entrusted to sommelier Pietro Campara who will guide you through a wine list with 700 labels.
Where we are
Vicolo S. Silvestro, 10
37122 - Verona

T: +39 045 592650
M: +39 349 6907050
E: ostescurosrl@yahoo.it

Opening hour
Monday
lunch closed | dinner 19.30 - 22.00
Tuesday and Wednesday
lunch 12.30 - 14.00 | dinner 19.30 - 22.00
Thursday and Friday
lunch 12.30 - 14.00 | dinner 18.45 - 22.00
Saturday
lunch 12.30 - 14.00 | dinner 18.45 - 22.30
Sunday Closed